Friday, January 31, 2020 - 16:02
It is with great excitement and pleasure that the Education and Clinical Services department welcomes Becky Baltich Nelson to our library!
Becky is joining us from the Samuel J. Wood Library at Weill Cornell Medical School where she worked as a Clinical and Systems Librarian. She was embedded into systematic review teams resulting in publications in Cancer, Journal of Vascular Surgery: Venous and Lymphatic Disorders and European Urology Oncology.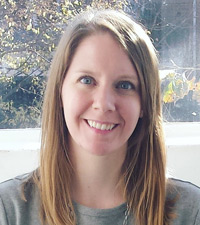 Prior to her position at the Samuel J. Wood Library, Becky was a Fellow at the National Library of Medicine and worked on projects relating to copyright and the NISO Open Discovery Initiative.
As an Education and Clinical Librarian here, Becky will provide information literacy instruction, build partnerships with clinical departments to support their information needs, and perform literature searches.
Please stop in and say hello!
Welcome, Becky!