Fighting City Hall: The People's Medicine in Action (cont'd.)
By May, 1977, two years since the residents had first begun documenting patient care deficiencies at WCH, no concrete steps had been taken by the city to improve conditions there. Even when an appeal to the state's Labor Relation's Commission produced an order to the city to negotiate promptly, the city would not comply.(105) Outgoing residents DeCosimo and Doyle wrote to the membership in late May describing threats made to some residents and the escalating conflict between the hospital board and the residents, especially those in Family Medicine:
Two second year medical residents after being appointed for the coming year by their department chief and the hospital executive committee were submitted to interrogation regarding their participation in housestaff affairs by members of the Board of Trustees while the Trustees held up their contract approvals. Finally, five weeks before a new hospital year the Trustees announced that 30 residents, all in the department of Family Practice, would not be given City hospital contracts, even though these people had been approved by the Medical Executive Committee and sent letters of appointment.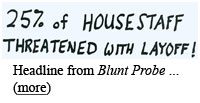 Blunt Probe could afford to be less circumspect. In an article headlined, "Special Bulletin for Hospital Employees. 25% of housestaff threatened with layoff!" the editor asserted, "Our housestaff association is standing up. We are contacting all members of the City Council … There are elections this fall and City Hospital will be the issue." Indeed, as Gene Petit informed readers of The Blunt Probe, the PHA met with all members of the City council, City administrators, the chief of the WCH medical staff, and even the dean of the medical school to help resolve the potential elimination of Family Medicine residents from the hospital. Apparently no action was taken, since as late as June newspaper headlines indicated that action was merely being "hinted at."(106)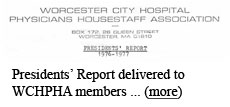 Yet, City Hospital's fate was already in question. Congressman Joseph D. Early had begun exploring with the city and the University of Massachusetts Medical Center (UMMC) the possibility of a merger between City Hospital and UMMC, according to a medical center spokesperson quoted on April 29, 1977. The final co-Presidents' Report from Drs. DeCosimo and Doyle to the WCHPHA, did not mince words: they wondered if "the new relationship [would be] symbiotic, parasitic, or predatory."
The City Coalition for a Better City Hospital called for "maintaining and improving the hospital in its present location." The coalition went on to name specific requirements for the hospital, including, "renovations and improvements necessary for accreditation … and [hiring] community liaisons … to serve as patient advocates to help persons through the emergency room and outpatient department and provide feedback to hospital administrators on community needs."(107)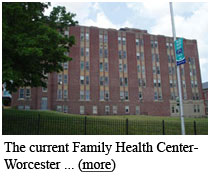 But, the investments necessary to keep City Hospital open and accredited as an acute, inpatient facility were much more than the city could afford. By the beginning of July, 1979 all Family Medicine residents had been gradually transferred from inpatient services at City either to Memorial or to University Hospital, which now housed the program's home base. Over the succeeding decade, WCH slowly reached financial insolvency and officially closed its inpatient units in 1991, despite its having delivered more than 20,000 services to Worcester patients in 1990 alone. However, the Family Health and Social Service Center immediately established a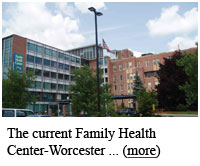 satellite office inside the hospital to continue and expand ambulatory care and residency education in conjunction with limited outpatient services still operating at City Hospital. After the hospital's final closure, the now renamed Family Health Center, in a financial collaboration involving the state as well as University hospital, remodeled a significant portion of the old hospital for a revitalized neighborhood health center that opened in 1995 and today serves thousands of patients per year.(108)